"SUSTAINABLE GLASSES WILL NOT CHANGE THE WORLD, PEOPLE THAT WEAR THEM WILL"
We strongly believe that sustainable product design, use and assembly is our duty and one of the greater challenges of our time, that is why we have decided to back the optical companies that strongly believe in these principles.
Toucan Eco  – As a practice striving for sustainability and responding to workplace guidelines for Covid 19 to ensure we could reopen, we have implemented a new cleaning regime. Toucan Eco is a multipurpose disinfectant cleaner made from just water, salt and electricity that kills up to 99.999 % of micro-organisms. It is eco-friendly, effective and safe and replaces most chemical cleaners and the single use plastic bottles they are supplied in. For more information have a look at toucaneco.co.uk
SEA2SEE – "Sustainable Vision"
Sea2See collaborates with fishing communities to collect discarded marine plastic waste (such as fishnets, ropes, lines, and bottles) and converts this plastic waste into spectacle frames. Sea2See aims to create a global consciousness with regards to the issue of sea contamination through a stylish product that anybody can wear with pride.  "Every second, 256 kg of plastic ends up in our oceans and by 2050 there will be more plastic in the oceans than fish, isn't it time to act"?
As a practice we aim to become more sustainable and raise awareness of environmental concerns. We recycle our all our paper, cardboard and plastic packaging and have upgraded our patient management system and our staff are using computerised diaries instead of printed paper diaries. We encourage our contact lens patients to drop off their contact lens and blister packaging to the practice which we post to TerraCycle UK for recycling. The recycled plastic waste is converted into furniture such as benches. Our patients also drop off their old spectacles which are sent to 3rd world countries. By supporting and promoting these environmental companies and products and making changes within our practice, we hope to make a positive environmental change.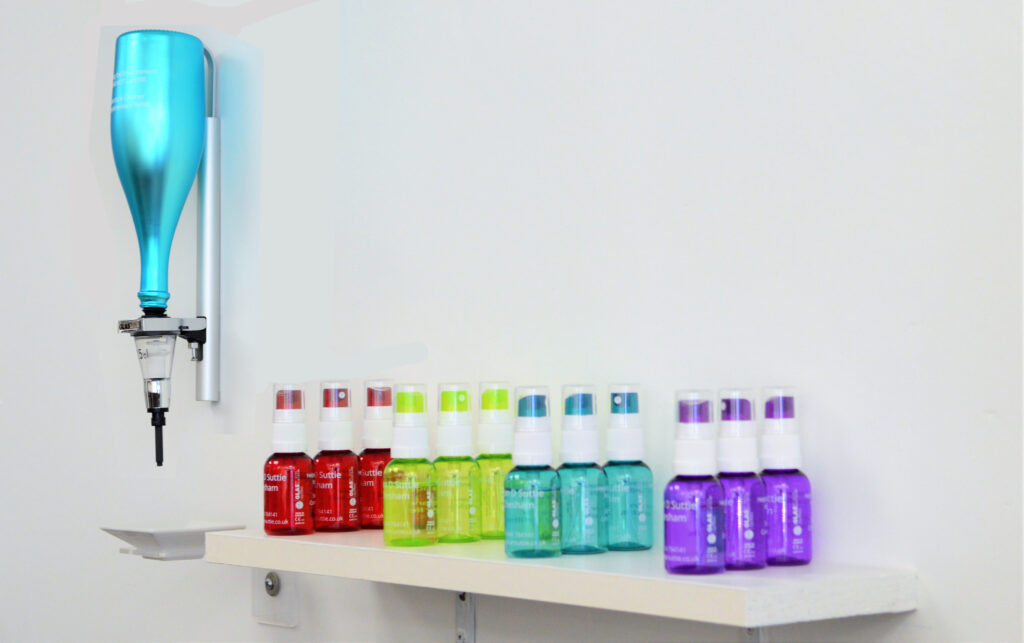 GLASKAR – "Refill not Landfill"
Glaskar cleaning spray is 100% natural, vegan, highly concentrated containing no dyes and perfumes, and suitable for all types of spectacle lenses. The solution bottle is recyclable and within our practice we offer free refills.
ESSILOR
As one of the leaders in eco-friendly lens production Essilor have been promoting the 3Rs (reduce, reuse and recycle). The have reduced their vehicle emissions by providing electric company cars and mains electricity by transitioning to sustainable sources. Zero waste goes to landfill as they recycle and reuse packaging, and water in their manufacturing processes. 
https://www.essilor.co.uk/about-essilor/sustainability 
SILHOUETTE
100% of Silhouette's energy to run the premises and production plant comes from renewable resources (e.g. solar power) with almost zero emissions. As a result of Silhouette's environmentally friendly production practices, 104,000 litres of water are reprocessed each day within the Austrian water conservation zone with the highest environmental standards.
ZEAL – "Use Less, Give Back, Explore More"
Zeal frames and lenses are made from plant-based materials, no palm oil, and are engineered to be as sustainable as they are technical. They deliver high purity and quality lenses, giving crisp and clearer vision while reducing environmental impact. Through Zeal's projects and partnership, they reduce their environmental footprint, whilst creating social changes in communities. 
ECO – "Join us, and let's reforest the planet together"
Eco saves natural resources by manufacturing their metal frames from 95% recycled washing machines. The frames are made from castor seed oil instead of palm oil, making them lightweight, comfortable, and sustainable. For every frame sold, a tree is planted and currently 2 million trees have been planted. Support them to reforest the planet together.